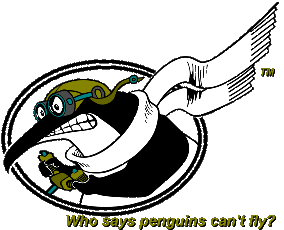 My aircraft
I am now the previous owner of two airplanes - Wolverine (N5067C) and Charlie (N4590C) - and one hot-air balloon - Shazam! (N4198W). And who knows what the future might hold...
---
Past Aircraft
"Wolverine"
Here, you will find the story of my first baby, Wolverine. The name comes from the colors - maize and blue - the school colors of the University of Michigan, where I got my undergraduate degrees. It's a modern classic. Here are the basic statistics:
1979 Bellanca Citabria 7ECA
2 seats
Tube and fabric construction
Lycoming O-235-K2C (118 HP)
Certified through CAR 3 in the aerobatic category (+5G/-2G)
Recently (1997) underwent near total reconstruction
Based at Buchanan Field in Concord, CA (CCR)
Note: the panel representation here is not current - the KX-145 has been replaced by an ICOM A-200.
Sam buys a plane...
In April, 1996, I found an ad in Trade-A-Plane for a 1979 Bellanca Citabria 7ECA in Brinkley, Arkansas. I cashed in some frequent flyer miles to go down and see it. After a clean pre-purchase inspection, I plunked down 20%. About a month later, after all the paperwork with the bank and the FAA went through, on May 10, 1996, I bought my first airplane. It was a two-day trip back to my home base in Bedford, Massachusetts, but it was worth it. What you see here are the pictures I took in Arkansas before buying the plane. It really hasn't changed much since then, except for new paint and a narrow black stripe on the wings.
It's now November, 2003, and I've sold Wolverine. It was nice while it lasted, but I just haven't flown enough recently to make sense out of ownership.
The Accident...
In order to defray operating costs, I leased it back to the aero club I was a member of. Everything was going fine, until the day I returned from Siggraph '96 on August 10, when I received a panicked call from the aero club manager. That morning, a club member (on his first flight since being checked out in the plane) had ground-looped my airplane, collapsed the landing gear, and snapped the right wing in half. It's amazing how much damage a low-speed accident can cause. (Fortunately, nobody was physically hurt.) What you see here are the pictures of the plane immediately after the accident. I also have a copy of the NTSB report.

Fully restored and ready for fun...
Since all the fabric had to be torn off my plane anyway, I figured I'd get a new custom paint job. My first thought was to paint it like a penguin. But, that would make the top black, which is not very hospitable in hot weather. So, I opted for basically the same paint scheme with some additional black striping (which is actually not quite symmetric, a feature I really like). What you see here is the result of the final painting. There's also quite a long story of my cross-country flight to get the plane from Massachusetts to California. I developed the pictures, but I haven't scanned them yet. In fact, I can't even find them right now!
"Charlie"
I got a chance to do some mountain training in a rented Cessna 170B (The Black Beast) back in May, 1997. Unfortunately, that plane has since moved to Florida, so there weren't any 170s available for rent. Fret no more! On November 28, 1997 (the day after Thanksgiving), I hopped up to Seattle to check out a 1953 B-model. It didn't take long before I put down a deposit. It took 4 months before the weather cooperated enough for me to bring it home, but I finally did. My ownership of Charlie ended in October, 2000. Basic statistics are here, and I have more pictures.
1953 Cessna 170B
4 seats
All metal construction
Continental C-145 (145 HP)
Strictly VFR (no vacuum system or gyros)
Based at Buchanan Field in Concord, CA (CCR)
"Shazam!"
I got my Lighter than Air rating in August 1999, and it really is a lot of fun. It's pretty hard to rent balloons, so the best way to fly one is to own one. In May, 2000, I bought a used black Raven with a red rose and yellow lightning bolt motif. The balloon is named after the design on the top cap (see small picture, viewed from inside the balloon).
Raven S-55A
pilot + 1-2 passengers
Dual burners
77,498 cubic feet (AX-7)
Based at Tracy Municipal Airport in Tracy, CA
---
Possible future acquisitions
A man can dream, can't he?
jet warbird
or
jet trainer
Probability: 30%
Although it's definitely near the top of my list, it may take a bit before I actually invest in a Fouga Magister (also known as the Flying Dog Whistle). Because it's not a type-certified design (it's a French military trainer), it requires a "Letter of Authorization" from the FAA in order to fly it. Unfortunately, an LOA requires 1000 hours of flight time, and (as of mid-2000) I'm just over half way there (630 hours). At my current rate of flying, it'll be another 3-5 years before I'll be up there. If I get more students, I can cut that time down, but for now I wait...
If I don't get a Fouga, I just may get a Paris Jet. It has several advantages over the Fouga: it is a 4-seater, and it is certified. Since it's certified, I could get a type rating for it, which means I don't have to wait until I get 1000 hours. Unfortunately, they are substantially more expensive (on the order of 3x purchase price), have a lower service ceiling, and just don't look as cool.
motorglider
Probability: 20%
The Windex 1200C is a wonderful kit, and has great specifications. Unfortunately, one of the test units recently (1998) crashed, and I'm waiting to hear the findings before committing to this one.
helicopter
Probability: 20%
Helicopters are one of the few things you can fly that are cheaper to own than to rent, primarily due to the cost of insurance. So, one of these days, I may get a chopper. There are a few possibilities, but one of my top choices (the Revolution Voyager) is no longer available, so the Rotorway Exec 162F is the front-runner. It has the newest technology, and has the level of utility and performance I would require.
amphibian
Probability: 10%
When I first saw a picture of the SIAI Marchetti FN-333 Riviera back in 1994, I fell in love. It's one of the most interesting amphibious designs I've ever seen. The plane I was looking at was in Norway, and I seriously considered heading over there and ferrying it back to the US with a friend (a Norwegian CFI who has ferried many planes across the Atlantic). Unfortunately, the deal never went through. If I can find another good specimen at a good price, I may consider it again. The other possibility is another real beauty - the Seawind kitplane. I saw some really nice specimens at Oshkosh '99, and was glad I hadn't brought my checkbook with me. As with most kitplanes, they outperform pretty much any production airplane, but the build times have to be weighed heavily. If I were to go with one, it would likely be pre-built, though they now appear to be going for FAA certification...