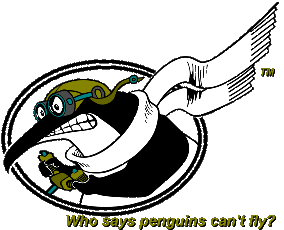 Penguin Flight
These pages describe my life in aviation, along with lots of other "goodies". You can check out my current fleet of aircraft, enter the Java Virtual Cockpit, try out the Interactive San Francisco Terminal Chart (which also uses Java), or check out some interesting aviation maxims. At the bottom of this page, you will find several good aviation links. I have a new page of very interesting sonic boom pictures and movies.

Want to learn to fly?
If you've always wanted to fly, but never thought you could, check out GA Team 2000. You can get a coupon for a $35 introductory flight lesson and lots more!
Other great resources for learning to fly are
and
Aviation Links
There are lots of great aviation web sites out there. Many of them also have lots of links to other aviation sites.
Weather is an important part of flying